You have something you'd like to raffle on our platform? That's great!
On Raffall you can host your own competitions and start selling raffle tickets publically or privately with the option to keep the proceeds from ticket sales yourself or to donate all or part of them to a registered charity of your choice.
As a host, you simply provide details of the prize, the price per ticket and how many tickets you wish to issue and within minutes you're ready to go!
Once live, Raffall enables you to easily share and promote your competitions online.
We've integrated Raffall into the worlds most popular platforms which means that you're able to promote your raffle publically or to specific people or groups at a simple push of a button.
Whether following a link from a public post or pressing a card received via an email or messenging service, all raffle details are clearly displayed within the recipients device enabling them to enter immediately and without having to download or install the Raffall mobile application.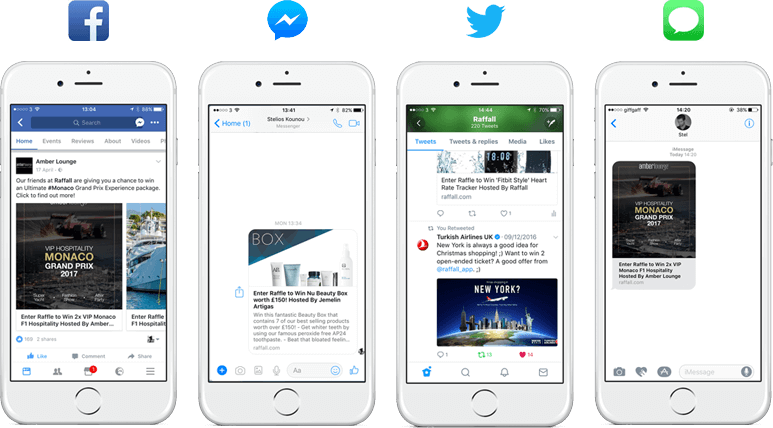 ...plus many others

All payments are processed by us which means you don't have to worry about collecting money, dealing with multiple currencies or issues relating to transactions.
Once the raffle has ended you will receive a payment directly from us for the total amount owed.

All users purchase raffle tickets using Raffall credit that can only be purchased via PayPal.
Hosting a raffle on our platform guarantees you a fixed sum payable after the raffle has ended and because all tickets must be sold before the draw takes place, you can calculate the exact amount you wish to receive before you publish.
The app also includes features that enable users to see whose purchased tickets, how many they have and if they have any friends in common and because users must have an active Facebook account in order to enter, this adds an extra layer of security and removes the risks of bots, fake users, entrants and winners.