Enter Raffle to Win Indie Business Charity Advent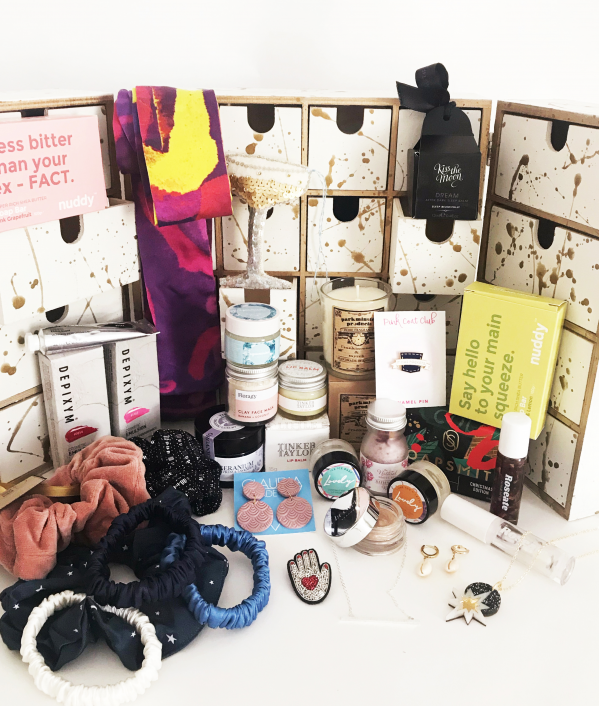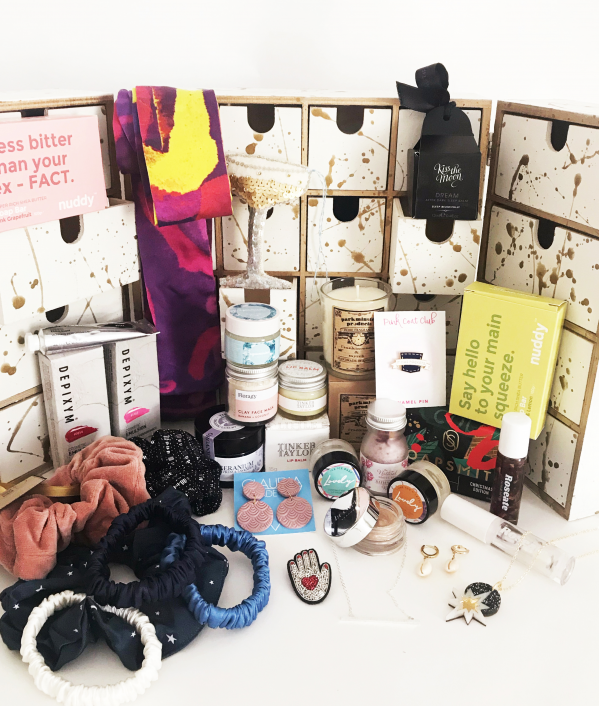 Raffle Summary
Enter the Independent Business Charity Advent Calendar Raffle for a chance to win this incredible advent calendar filled with beautiful products from 24 independent brands and raise money for Beauty Banks and Stand Against Racism and Inequality. One lucky entrant will win this reusable advent calendar filled with amazing skin, make up, body, jewellery and accessories from independent brands. This raffle is open worldwide (please check your country's customs and duties threshold as we cannot cover these costs) and each ticket costs £2 each (that's about $2.60 USD) and you can enter as many times as you want! 10% from each ticket goes to Raffall who is hosting this raffle to cover their hosting and admin. The rest of the ticket cost will be split 50/50 between Stand Against Racism and Inequality and Beauty Banks.
1 Prize
Don't look here if you want to be surprised! Inside you'll find products from Aquamarina Beauty, Beautie, Claudia Made This, Cosmetics à la Carte, Depixym, Feathers and Wings, Floragy, Hattie McGill, Kate Gwilliam, Kiss the Moon, Lovely Skincare, Marram, Mille Saisons, Nuddy, Parkminster, Pink Coat Club, Rosa Pietsch, Soapsmith, The Rose Tree, Tinker Taylor, Wildseed and Wilful North Aquamarina Beauty Natural Sugar Lip Scrub RRP £5 A sweet sugar natural scrub to exfoliate and buff dry lips this winter Beautie scrunchies in pink velvet and sparkle RRP £25 These luxe scrunchies have been handmade using gorgeous fabrics and a super stretchy elastic. Claudia Made This Dusty Pink Art Deco Earrings RRP £14 Handmade from polymer clay, these geometric earrings with textured Art Deco 'wave' look are the perfect accessory for Autumn/Winter. Cosmetics à la Carte Luminous Cream Shadow in Champagne RRP £28 Soft creamy golden shimmering cream shadow for subtly brighter eyes and a fresh, lifted, look perfect for small parties this year. Depixym Cosmetic Emulsion Trio RRP £54 Unleash your make up creativity with these three longwear, non-transfer, vegan, cruelty free, matte, blendable, mixable, waterproof cosmetic emulsions. Feathers and Wings Silver Set The Bar Necklace RRP £40 The Set The Bar necklace is the perfect go-to necklace for the everyday with a beautiful textured bar, perfect worn alone or layered. Floragy Banana + Coconut Clay Face Mask RRP £8 An award-winning clay face mask is made with Banana Powder and soothing Coconut Milk Powder with White Kaolin Clay to draw out impurities and oats for gentle exfoliation Hattie McGill Embroidered Heart in Hand Brooch in Silver RRP £40 Keep your heart firmly in your hand with this detailed hand embroidered brooch. Kate Gwilliam Champagne Coupe Ornament RRP £30 Add some sequinned sparkle to your Christmas tree with this handstitched coupe glass ornament. Kiss The Moon Dream Sleep Balm RRP £16 This little pot of magic will help switch off when the mind is working overtime thinking about Christmas plans. Lovely Skincare Lip Balm Duo RRP £13 Sooth dry winter lips with two delicious lip balms made with jojoba and avocado oils along with beeswax to nourish and condition. Marram Gold Shell Huggie Hoops RRP £12 The perfect earrings for everyday with lightweight real cowrie shells. Mille Saisons Silk Star Print Super Scrunchie and Hair Elastic Trio RRP £46.50 Perfect for those inbetweeny Christmas days to throw your hair up with a soft silk hair tie and relax. Mille Saisons Burgundy Silk Hair Bow RRP £26 Perfect for easy half up festive hair styles Nuddy Soap Bar Duo RRP £9.90 Two fruity soap bars to cleanse and moisturise your skin, leaving it softer, smoother and more nourished. Parkminster Small Frankincense & Myrrh Votive Candle RRP £5.95 With a burn time of around 15 hours this scented soy candle is perfect to create a festive atmosphere. Pink Coat Club It Had Pockets Pin RRP £8.50 Celebrate the humble pocket with this navy, white and gold hard enamel pin. Rosa Pietsch Star Deco Pendant Necklace RRP £28 The Star Deco Pendant Necklace is ideal for the festive season, yet can be worn all year round! The design features a delicate laser-engraved star, set into a marbled frame and layered onto an art deco style circle background. Roseate Lifestyle Lip Gloss and Lip Oil RRP £14.50 A cute lipgloss to add shine to your lips this Christmas or to use on top of lipstick for extra gloss and a conditioning lip oil. Soapsmith Handmade Soap RRP £10 This Columbia Road scented soap evokes memories of the famous flower market at Christmas, when it transforms into a festive haven of fir tree lined streets, fresh cold winter air and hot drinks with festive song. The Natural Beauty Pot Rose Bath Salts RRP £10 Beautiful rose scented bath salts made using 100% natural ingredients, created with mineral rich epsom salts, organic essential oils and botanicals. The Rose Tree Aromatherapy Hand Balm RRP £19 A blissful aromatherapy hand balm treatment to transform dry, tired hands and soothe your mind. Tinker Taylor Lip Balm RRP £20 A natural, deeply nurturing balm that is packed with fatty acids and vitamins, and has been carefully formulated to restore moisture, support healing and provide lasting protection for the lips. Wilful North Silk Skinny Scarf RRP £46 This silk skinny scarf is inspired by the glory in mistakes... because without trying we'd never succeed. Colourful brush strokes and dribbled paint decorate this scarf, creating an abstract piece.

Delivery / Collection

International delivery included
Raffle Ends
Monday, 9th November 2020 at 00:00 or when the last ticket is sold (whichever comes sooner)
Charity Donation
50% of the host's revenue goes directly to:
Stand Against Racism and Inequality
Registered Charity No. 1047699
Raffall Guarantee
If the host fails to provide a prize, the winners will receive a share of the compensation amounting to 75% of all ticket sales.
All compensation payments are guaranteed and paid directly by Raffall.
Won
One reusable wooden advent calendar filled by independent businesses
on
09 November 2020
Raffall™ - The SAFE way to enter raffles & prize competitions online!
Watch the video to see why everyone trusts competitions hosted on Raffall