Enter Raffle to Win FoGHS Christmas Prizes Galore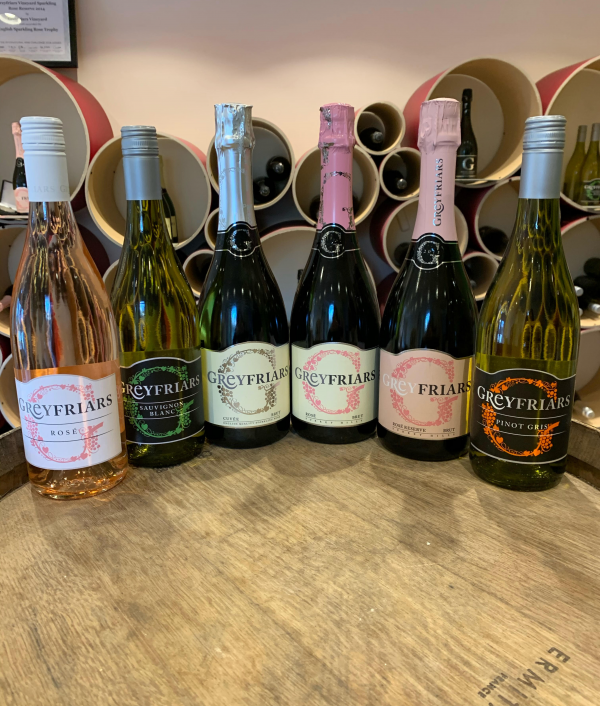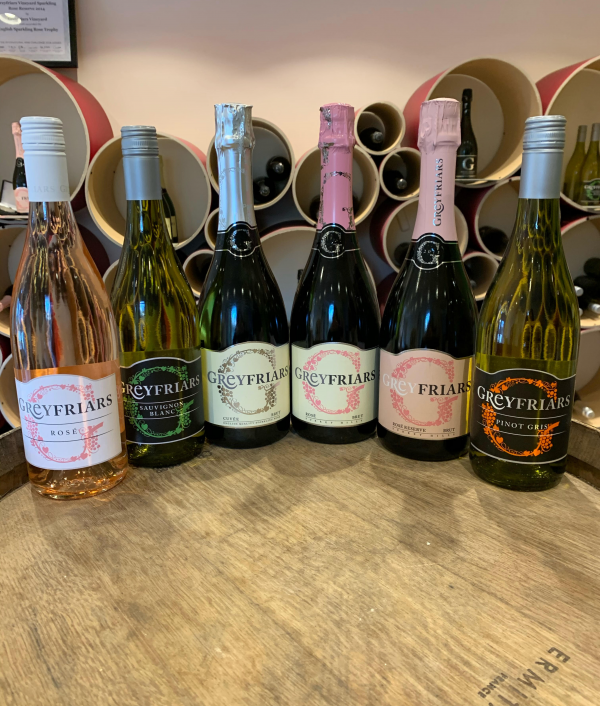 Raffle Summary
In the absence of the FoGHS Christmas Fair, we are going online this year for our Christmas Raffle. No paper tickets but the same array of magnificent prizes. Please spread the word among your family and friends, anyone can buy tickets and there are fabulous prizes to be won. We have tried to support small or local businesses where possible this year to support traders who may be suffering due to the pandemic. We hope you agree we have found a fantastic range of luxury artisan gifts that anyone will be delighted to win. Sincere thanks from the Committee for all the reps who have co-ordinated their classes and organised donations to make all these wonderful prizes possible. Raffall will do the draw and contact winners directly, prizes can be sent straight to the winners or local collection can be arranged all within COVID safe guidelines.
17 Prizes
A specially curated Case of English wines to support home grown producers at this time to showcase the brilliant wines England now produces. We have 6 amazing wine producers in Surrey alone and many more in nearby Hants and Sussex... The case will be procured and delivered in a Covid compliant way and will contain - Greyfriars Sparkling Rosé Reserve 2015 Greyfriars Sparkling Rosé NV Greyfriars Sparkling Cuvée NV Greyfriars Still Rosé 2019 Greyfriars Still Pinot Gris 2018 Greyfriars Still Sauvignon Blanc 2018 The 3 sparkling wines are all made in the traditional (champagne) method, (the chalk based soils at Greyfriars are similar to those of the Côte de Blancs in the Champagne region.) The case can either be collected or delivered to the winner.

Delivery / Collection

UK delivery included

Deli Farms Rough Tor Hamper is a selection of finest sliced and whole products. Presented in a modern crate printed box. Contents 1x Small Garlic Salami 1x Small Oak Smoked Paprika Salami 1x Small Hot Peppery Salami 100g Sliced Coppa 80g Sliced Bresaola 80g Sliced Lomo 1x Medium Spicy Chorizo

Delivery / Collection

UK delivery included

A very British fine food wicker hamper, filled with unforgettable luxuries from our own green and pleasant land. THE FINE CHEESE CO. CAVE-AGED CHEDDAR TRUCKLE BABY BURT'S BLUE GOLDEN CENARTH WESTCOMBE VEAL AND FENNEL SAUCISSON THE FINE CHEESE CO. TOAST FOR CHEESE DATES, HAZELNUTS & PUMPKIN SEEDS ARTISAN DU CHOCOLATE DARK CHOCOLATE COATED SALTED CARAMEL BISCUITS WILDING CIDER - COMMIX

Delivery / Collection

UK delivery included

Last year, Jaya and Marc created their first Christmas hampers… and the reaction was overwhelming. So, this year, they've been beavering away at Fork&Bindi HQ; inventing some new (and utterly unique) products and improving on others. Each hamper contains: 1 box of 8 Lemon Chai Flavoured Pasticcini di Mandorle Biscuits 1 small bottle of Plum Gin 1 jar of Lemon, Chilli and Fennel Seed Jam 1 tin of 7 Christmas Pudding Chocolate Truffles 1 jar of Truffle Roasted Cashews and Sunflower Seeds 1 packet of 3 medium Chocini Sesame and Butterscotch Hearts 1 jar Rosemary and Orange Marinated Olives and Hazelnuts 1 jar Lemon and Geranium Hand Scrub 1 bottle of Festive Twinkles - something to add some sparkle to the occasion 1 packet of Fork&Bindi Incense Sticks 1 packet of bindis! A little bit about our goodies: These are artisan products. EVERYTHING was made with LOVE; slowly, by hand and in very small batches. We do not compromise on the quality just for the sake of the price. Most main ingredients are organic. Some were even grown by our own fair hands, or in the gardens of our families. Everything is absolutely dripping with our love… something you can't really put a price on… but which you can definitely taste. For more information, please contact: [email protected]

Delivery / Collection

UK delivery included

Christmas Cracker Bouquet An explosion of colour The lucky recipient of this Bouquet is in for a treat when they lift the lid to an explosion of colour. This Bouquet is arranged from beautiful blooms including a dazzling Holly berries, and a red rose, germinies and hypericum into a seasonal bouquet, finished off with sprigs of festive snow-covered eucalyptus. It's the perfect gift for a loved one this Christmas. ** With a half bottle of Champagne **

Delivery / Collection

UK delivery included

The Disco Bead company have put together specially for FoGHS a lovely surprise hamper containing a selection of their most popular bestsellers. Make your own bracelet kit Make your own Tree decs Set of 5 glitter bells decorations Set of 5 baubles 3 adult bracelets 3 kids bracelets Bee collections of bracelet for adult and kids and a dragonfly window sucker Bee collection also comes with pots of wildflowers seed to help bees and butterflies (total of about 2400 wildflower seeds) and we plant a tree for each order, so a tree will be planted for them as well.

Delivery / Collection

UK delivery included

A fine selection of favourite sweets from your childhood! A Bumper Retro Sweets Gift Box - New and Improved Version of The Bestselling Sweet Hamper with an Even Bigger Old Fashioned Sweetshop Selection. Now even more nostalgic... featuring loads of your favourite, iconic 70s, 80s and 90s childhood sweetshop sweets including a Sherbet Fountain, Wham Bar, Refreshers Chew, White Mice, Sherbet Dip Dab, Snowies, Popping Candy, Anglo Bubbly Bubblegum, Parma Violets, Black Jacks, Fruit Salad Chews and lots more!

Delivery / Collection

UK delivery included

An abundance of the most celebrated recipes in our entire collection. A special large chocolate gift hamper for any chocolate-lover. The Everything Chocolate Collection includes: Salted Caramel Chocolate Puddles Salted Caramel Selector Everything H-Box 70% Dark Chocolate Slab Selector Milk and Cookies Nano Slab Dark Fruit and Nut Nano Slab Salted Caramel Nano Slab Hot Chocolate Sachet Cocoa Tea Pillow Pack

Delivery / Collection

UK delivery included

Relaxation Spa Package - Handmade Vegan Eco Letterbox Present- Bath Salts Everyone loves to have a nice surprise delivered through their door, especially in these uncertain times, this is the perfect relaxing parcel to receive. The Luxury Bath Time Pamper Hamper consists of the following: - REJUVENATE, REVITALISE, REPLENISH & RELAX Bath Salts - Crystal Collagen Eye Masks - 24k Gold Vegan Collagen Boost Eye Treatment - Joss Sticks - Chosen at random from a selection of scents such as Sandalwood, White Sage, Lavender and Jasmine - Loofah - Made from Natural Exfoliating Luffa Material Everything we use from the box we deliver your hamper in to the shredded stuffing inside come from 100% Recycled Eco friendly paper.

Delivery / Collection

UK delivery included

The e-voucher raffle prize entitles the winner to receive: A fun filled photo shoot for all the family (cats, dog, hamsters included if so desired!) in our state-of-the-art studios in Pirbright, Surrey (4 miles from Woking and Guildford). A personalised, cinematic viewing of the images that we have worked on at a date and time convenient to the family. A handcrafted 9" x 6" mounted image of their choice. The sessions are all about fun and family (within the current government guidelines of course!)

Delivery / Collection

Collection only

Christmas Cracker - Jo Malone take on the classic Christmas cracker. Filled with a Peony & Blush Suede Cologne (9ml), Wood Sage & Sea Salt Body & Hand Wash (15ml) and Wild Bluebell Body Crème (15ml). The perfect finishing touch to any table or stocking. Christmas Ornament - Dress the tree with the Jo Malone decorative ornament. Filled with a Wild Bluebell Cologne (9ml) and an English Pear & Freesia Body Crème (15ml).

Delivery / Collection

UK delivery included

This family hamper contains a bottle of Prosecco and snacks to suit everyone, young or old. It also includes a game and candy canes for the tree. Everything's packed in an attractive woven basket which can be kept and used for storage. Please note: on rare occasions, it may be necessary to make minor substitutions in the hamper. If the recipient has any allergies or sensitivities, please ensure they read carefully the product information provided with the hamper, as well as on each individual item. Contents: John Lewis Prosecco, 75cl Maple Falls Mulled Wine, 75cl Becky's Christmas Chocolate Cracker, 100g Claire's Handmade Smoky Red Pepper Salsa Dip, 200g Cottage Delight Classic Cinnamon Stars, 175g Mr. Filbert's Peruvian Pink Peppercorn Cashews & Peanuts, 110g Nibnibs Sun-dried Tomato Big Minis, 100g Choc-O-Lait Dark Stick, 33g Choc-O-Lait Milk Stick, 33g 12x Red & White Candy Canes, 170g The Original Cake Company Butter Mincemeat Shortbread Stas White Chocolate Snowman, 200g Yorkshire Crisps Tomato, Basil & Mozzarella, 100g Christmas Tabletop Game

Delivery / Collection

UK delivery included

It's Thai-rrific news for flavour-loving foodies as Guildford's Giggling Squid has a new look. A feast for the eyes as well as the taste buds, the revamped restaurant features a bright new interior with fabulous florals and up for grabs is a £30 voucher for either a dine in or takeaway! www.gigglingsquid.com

Delivery / Collection

UK delivery included

Noel's Farm Shop in Sutton Green sources the freshest, quality produce available. They stock a range of fantastic local fresh fruit & veg, free range meat & dairy, Surrey eggs & honey, artisan breads, gourmet foods, wholefoods and bread flours. One of their Handmade shopping bags will be filled with a surprise selection of their finest Christmas produce and treats and delivered or made available for collection locally.

Delivery / Collection

UK delivery included

Secrett's of Milford located in the beautiful county of Surrey in the UK . One of the best gourmet food destinations in the region. The shop stocks some of the finest products from local independent producers as well as wonderful and unusual ingredients to inspire everyone in their kitchens. The prize will contain a range of cheese, crackers, chutneys and beer.

Delivery / Collection

UK delivery included

These award wining English drinks are truly a glass above! Chapel Down is located in the beautiful Kent countryside, close to the picturesque market town of Tenterden, and is open to visitors throughout the year.

Delivery / Collection

UK delivery included

The fairly-traded goods sold in the Fair Trade shop come from all around the world. As well as food, there are unusual crafted items, baskets and bags, jewellery, scarves and some beautiful cards. People are often surprised at the variety of goods and at their reasonable price. The shop is run by volunteers at Emmanuel Church Parish Centre in Stoughton, Guildford. With low overhead expenses, they can offer great quality Fairtrade goods at competitive prices. The profits from the shop support development projects around the world. Fair trade not only means that producers have received a fair price for their goods, but also that they will have good working conditions, and have been treated well by purchasers, given some advance payments and in some cases help and advice on marketing practices. Within a fairly-traded price there is also a social premium which helps to improve facilities within a community. In addition to all these benefits of fairly-traded goods, Emmanuel give away any profit they make in the fair-trade shop.

Delivery / Collection

UK delivery included
Raffle Ends
Monday, 14th December 2020 at 20:00 or when the last ticket is sold (whichever comes sooner)
Charity Donation
100% of the host's revenue goes directly to:
Friends of Guildford High School
Registered Charity No. 280369
Raffall Guarantee
If the host fails to provide a prize, the winners will receive a share of the compensation amounting to 75% of all ticket sales.
All compensation payments are guaranteed and paid directly by Raffall.
Won
Disco Bead Company Surprise Hamper https://www.discobeads.com/
on
14 December 2020
Won
John Lewis & Partners Christmas Eve Basket
on
14 December 2020
Won
Rough Tor Hamper from Deli Farm - https://www.delifarmcharcuterie.co.uk/
on
14 December 2020
Won
Chapel Down Wine
on
14 December 2020
Won
Luxury Bath Time Pamper Hamper by www.etsy.com/uk/shop/RoyalGoldForest
on
14 December 2020
Won
Secrett's Christmas Hamper
on
14 December 2020
Won
"Cider House Rules" The British Fine Food Hamper by https://www.finecheese.co.uk/
on
14 December 2020
Won
Retro Sweets Hamper by https://www.aquarterof.co.uk/
on
14 December 2020
Won
Fairtrade Hamper of Christmas treats from Emmanuel Fairtrade shop
on
14 December 2020
Won
Flowers and half bottle Champagne https://www.arenaflowers.com/
on
14 December 2020
Won
Handmade Shopping bag filled with Christmas treats
on
14 December 2020
Won
e-voucher gift worth £199 from Lovelight Photography www.lovelightphoto.co.uk
on
14 December 2020
Won
Mixed case of English wines hand picked by wine expert https://www.greyfriarsvineyard.co.uk/
on
14 December 2020
Won
Giggling Squid £30 voucher
on
14 December 2020
Won
Hotel Chocolat Hamper - https://www.hotelchocolat.com/uk
on
14 December 2020
Won
Fork & Bindi Christmas Hamper - https://www.facebook.com/forkandbindi/
on
14 December 2020
Won
Jo Malone Christmas Cracker & Christmas Ornament
on
14 December 2020
Raffall™ - The SAFE way to enter raffles & prize competitions online!
Watch the video to see why everyone trusts competitions hosted on Raffall