Enter Raffle to Win RPG £150 of Goodman Game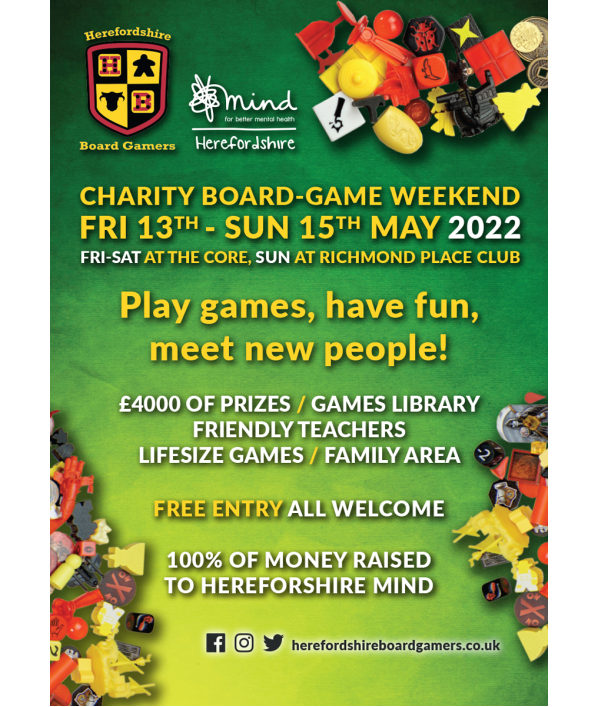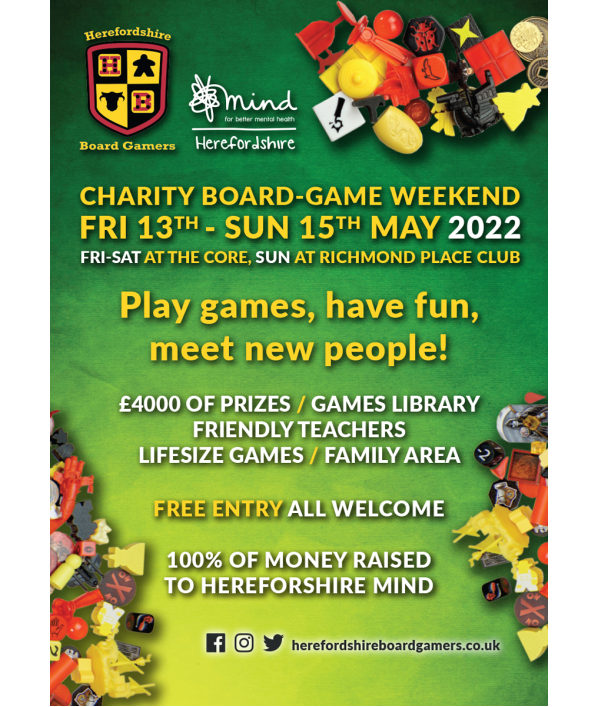 Raffle Summary
Win this bundle! Online raffle in conjunction with our charity board gaming weekend on 13th-15th May in Hereford and RPGs online. We are hosting a range of raffles online and in person. This is our eighth annual charity event and every penny raised goes to Herefordshire Mind. One winning tickets will win this bundle worth £150 Raffle will be drawn at 19:30 on Saturday 14th May. https://herefordshireboardgamers.co.uk/megamay/ Please check out the website for the latest details as we may add to the bundles due to last minute prizes coming in. All digital, codes will be emailed to you.
1 Prize
The wonderful folks at Goodman Games have donated this PDF RPG bundle worth over £150. An amazing mix of source books, adventures and guides. Dungeon Crawl Classics RPG (DCC RPG) Mutant Crawl Classics RPG Dungeon Crawl Classics Lankhmar Boxed Set How to Write Adventure Modules That Don't Suck Dungeon Crawl Classics #35: Gazetteer of the Known Realms Dungeon Crawl Classics #66.5: Doom of the Savage Kings Dungeon Crawl Classics #67: Sailors on the Starless Sea Dungeon Crawl Classics #83: The Chained Coffin Dungeon Crawl Classics #88.5: Curse of the Kingspire Dungeon Crawl Classics #94: Neon Knights Mutant Crawl Classics #1: Hive of the Overmind Mutant Crawl Classics #2: A Fallen Star for All Mutant Crawl Classics #3: Incursion of the Ultradimension Dungeon Crawl Classics 2013 Holiday Module: The Old Gods Return Dungeon Crawl Classics 2019 Convention Module: The Inn at Five Points Dungeon Crawl Classics Lankhmar # 1: Gang Lords of Lankhmar Dungeon Crawl Classics Lankhmar #2: The Fence's Fortuitous Folly Fifth Edition Fantasy #1: Glitterdoom Fifth Edition Fantasy #2: The Fey Sisters Fate Fifth Edition Fantasy #3: The Pillars of Pelagia 50 Fantastic Functions for the D50 Donated by https://goodman-games.com/

Delivery / Collection

UK delivery included
Raffle Ends
Saturday, 14th May 2022 at 18:32 or when the last ticket is sold (whichever comes sooner)
Charity Donation
100% of the host's revenue goes directly to:
Herefordshire Mind
Registered Charity No. 701260
Raffall Guarantee
If the host fails to provide a prize, the winners will receive a share of the compensation amounting to 75% of all ticket sales.
All compensation payments are guaranteed and paid directly by Raffall.
Won
RPG Bundle £150 of Goodman Game PDF rules and adventures
on
14 May 2022
Raffall™ - The SAFE way to enter raffles & prize competitions online!
Watch the video to see why everyone trusts competitions hosted on Raffall