Enter Raffle to Win 7-Piece 18V Dewalt XR Set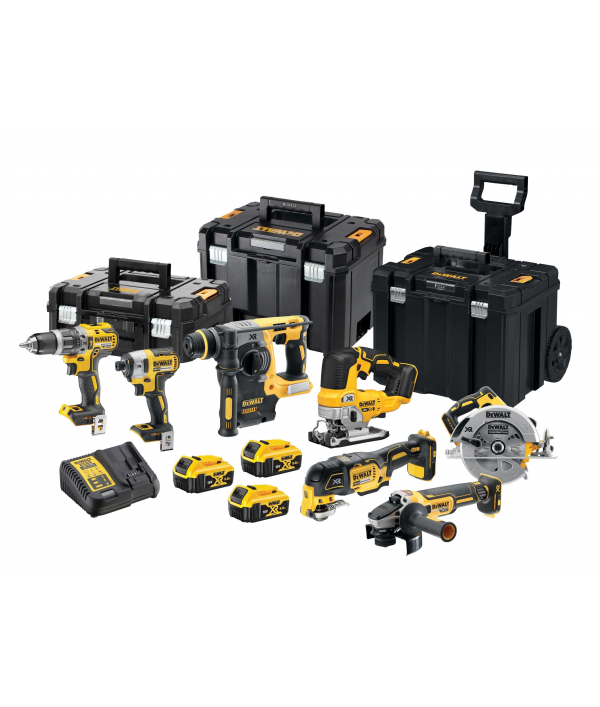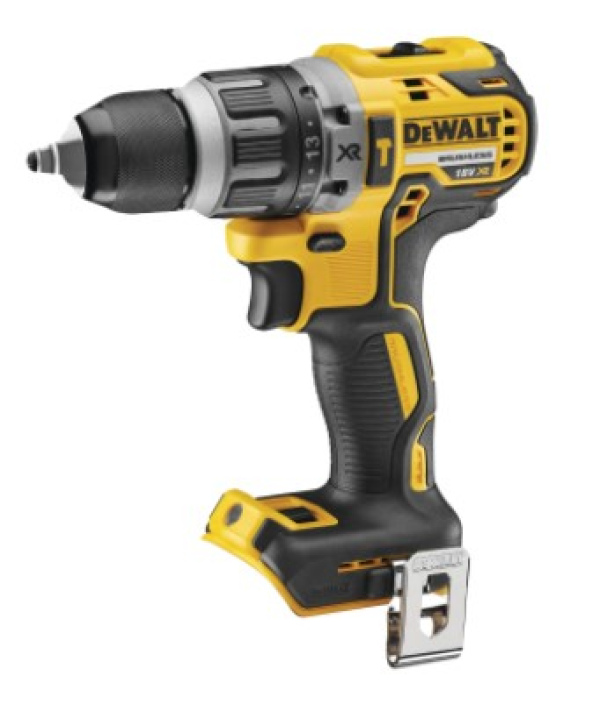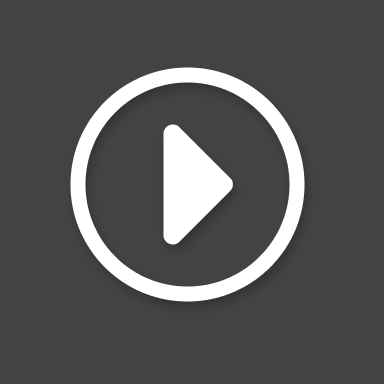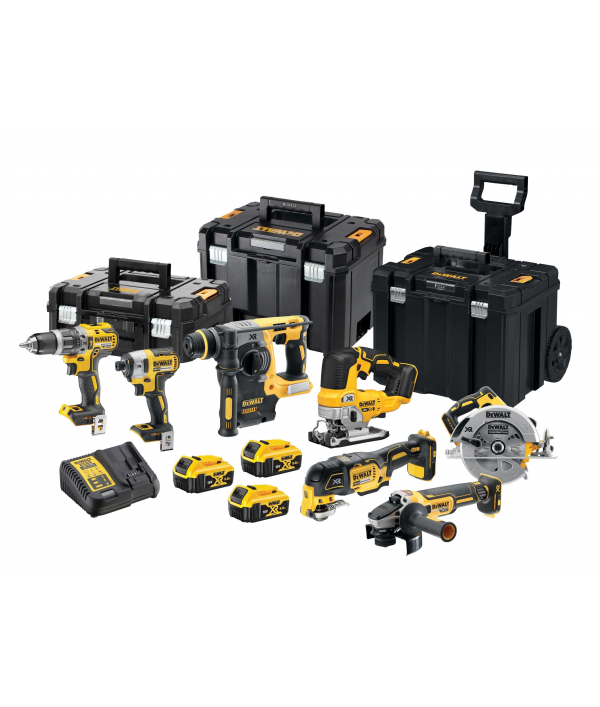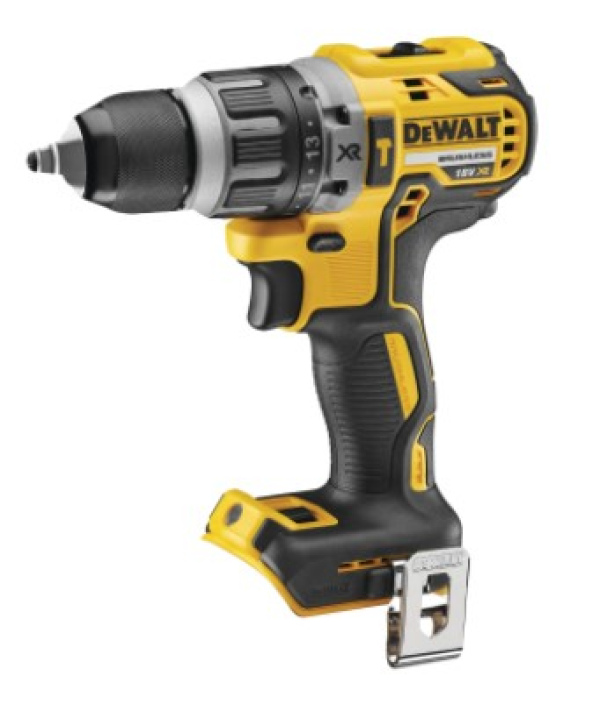 Raffle Summary
**WORTH OVER £1,200** 7-Piece 18V Dewalt DCK755P3T XR Set 1 x 18V DCD796 XR Brushless Combi Drill 1 x 18V DCF887 XR Brushless Impact Driver 1 x 18V DCS355 XR Oscillating Multi-Tool 1 x 18V DCH273 XR Brushless SDS Plus 3-Mode Hammer 1 x 18V DCG405 XR Brushless Grinder 1 x 18V DCS570 XR Brushless Circular Saw 1 x 18V DCS334 XR Brushless Top Handle Jigsaw Also supplied with: 3 x 18V 5.0Ah Li-ion Batteries 1 x 10.8-18V DCB115 XR Li-ion Charger 1 x TSTAK™ VI Deep Toolbox 1 x TSTAK™ II Toolbox 1 x TSTAK™ Mobile Storage with Extendable Handle
1 Prize
The DEWALT DCK755P3T XR 7 Piece Kit worth over £1,200 contains the following: 1 x 18V DCD796 XR Brushless Combi Drill has an ultra-compact, lightweight design. The 2-speed all-metal transmission provides increased run time and longer tool life. It offers a 15-position adjustable torque control for consistent screwdriving. Chuck: 13mm Keyless No Load Speed: 0-550/0-2,000/min. Impact Rate: 0-9,350/34,000/bpm Torque: 27/70Nm, 15 Settings Capacity: Steel 13mm, Masonry 13mm, Wood 40mm 1 x 18V DCF887 XR Brushless Impact Driver is equipped with application control. This is achieved through 3 motor speeds and torque settings. Precision Drive mode offers additional control in screwdriving applications to avoid material and fastener damage. It has a super lightweight and compact design. Bit Holder: 6.35mm (1/4in) No Load Speed: 0-1,000/0-2,800/0-3,250/min. Impact Rate: 0-1,800/0-2,900/0-3,800/bpm Max. Torque: 26/80/205Nm Weight: 1.56kg 1 x 18V DCS355 XR Oscillating Multi-Tool delivers up to 57% more run time over brushed motors. It uses the quick-change accessory system that allows blades and attachments to be changed quickly without the use of tools. No Load Speed: 0-20,000/min. Length: 310mm Weight: 1.06kg 1 x 18V DCH273 XR Brushless SDS Plus 3-Mode Hammer is fitted with an electronic clutch for consistently high torque and improved durability. Ideal for drilling anchors and fixing holes into concrete. Modes: Rotary, SDS Hammer, Chisel Only No Load Speed: 0-1,100/min. Impact Rate: 0-4,600/bpm with 2.1 joules Capacity: Wood 26mm, Metal 13mm, Masonry 24mm Weight: 3.1kg 1 x 18V DCG405 XR Brushless Grinder with an electronic clutch that reduces the kickback reaction in the event of a pinch or stall. The 2-position side handle provides greater control, whilst the rubber overmould provides enhanced grip and comfort. For added safety, the electronic brake stops the wheel quickly when the trigger is released. No Load Speed: 9,000/min. Disc Diameter: 125mm, M14 Spindle Weight: 1.75kg 1 x 18V DCS570 XR Brushless Circular Saw, ideal for general-purpose ripping, cross-cutting and bevelling, for wood and other construction materials. It has a high torque brushless motor for improved durability and power. With a precise cutting depth scale, up to 65mm and a variable bevel angle, up to 57°. Its stable block construction provides low vibration running and increased service life. With an additional handle for safe two-handed work. No Load Speed: 5,500/min. Max. Cutting Depth: @90º 64mm Blade: 184 x 16mm Bore Bevel Capacity: 57° 1 x 18V DCS334 XR Brushless Top Handle Jigsaw has an intelligent variable speed trigger, lock-off switch and 4-position pendulum action. Quick and easy keyless blade change system, accepts T-shank blades. The tool-free adjustable shoe is fitted with an anti-scratch cover, bevels to 45° in both directions. The dust port is AirLock compatible. Strokes No Load: 0-3,200/min. Stroke Length: 26mm Bevel Capacity: 0-45° Capacity: Wood 135mm, Metal 10mm Weight: 2.1kg Also supplied with: 3 x 18V 5.0Ah Li-ion Batteries, 1 x 10.8-18V DCB115 XR Li-ion Charger, 1 x TSTAK™ VI Deep Toolbox (171195), 1 x TSTAK™ II Toolbox (Suitcase Flat Top) (170703) and 1 x TSTAK™ Mobile Storage with Extendable Handle (175799). Find out more - www.helptobuild.com/dck755p3t-xr-brushless-7-piece-kit-18v-3-x-5-0ah-li-ion

Delivery / Collection

UK delivery included
Raffle Ends
Monday, 31st October 2022 at 19:00 or when the last ticket is sold (whichever comes sooner)
Charity Donation
10% of the host's revenue goes directly to:
BBC Children in Need
Registered Charity No. 802052
Raffall Guarantee
If the host fails to provide a prize, the winners will receive a share of the compensation amounting to 75% of all ticket sales.
All compensation payments are guaranteed and paid directly by Raffall.
Won
7 Piece DEWALT DCK755P3T XR Set with 3 x 18V 5.0Ah Li-ion Batteries
on
31 October 2022
Raffall™ - The SAFE way to enter raffles & prize competitions online!
Watch the video to see why everyone trusts competitions hosted on Raffall