Enter Raffle to Win Christmas Raffle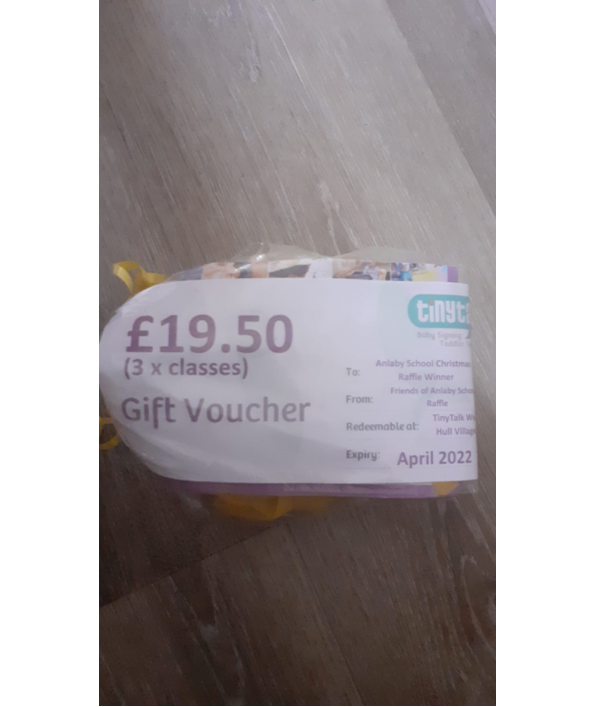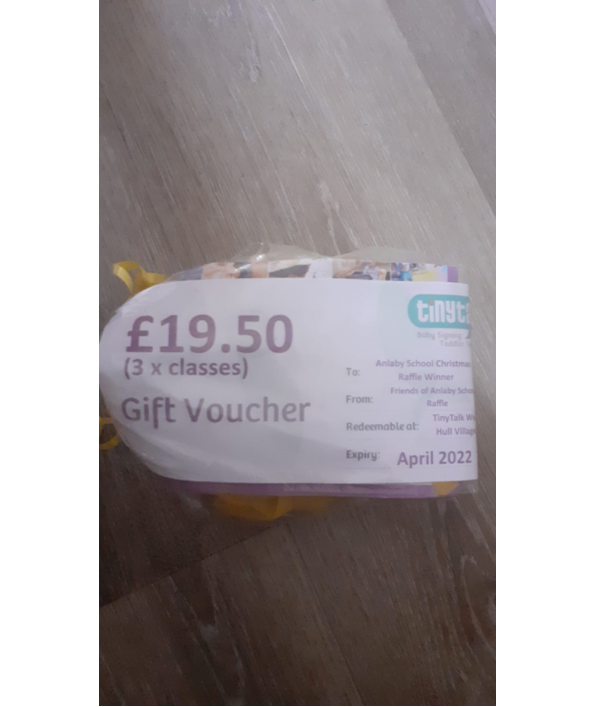 The Friends of Anlaby Primary School brings you our Christmas Raffle for 2021. We have some beautiful prizes donated by local businesses and parents for you to win. All prizes will be available for collection from our Christmas Fair on Friday 3rd December 2021 3.30pm until 5.00pm or on Saturday 4th December by arrangement. Good Luck to everyone in the draw.
Lovebirds Softplay for a day

Crafty Cat voucher worth £10

Wax Melts from Ali & Mummy

Mrs Hinch Cleaning Hamper

Tiny Talk Gift Voucher & Sensory Toys

Teas and Bisque It voucher worth £20

Cunning Creations Biscuits

Selection of Cakes from Ami's Kitchen

Audi Rucksack containing Men's Gift Set

Smart Watch voice Command Car

Archeofun T-Rex & Triceratops Dinosaur Making

Picnic Bag containing Baileys cancel, Chocolates, G&T set and Bottle of Cava

Black Hatbox Hamper Containing Me to you Cup & Socks, Laura Ashley Ladybird Brooch, Earrings from Peacocks, Far Away Rebel Perfume, Stitch Kit & Raindrops Candle

Whitney Neil Grapefruit Gin

Goldbox Hamper Containing Bathbombs, Prosecco , Gin set and Bath Fizz

Bubble Lemon grass & Green Tea Beauty Products

Bubble Moroccan Mint Tea Beauty Products

4 Pale Ale in Waitrose Bottle Opener Gift Box

4 Cider in Waitrose Bottle Opener Gift Box

Commissioned Art Piece by Vicki Peat

Buns by Cunning Creations

Ditsy Gift Bag with gin and accessories
Thursday, 2nd December 2021 at 18:00 or when the last ticket is sold (whichever comes sooner)
If the host fails to provide a prize, the winners will receive a share of the compensation amounting to 75% of all ticket sales.
All compensation payments are guaranteed and paid directly by Raffall.
Won
Buns by Cunning Creations
on
02 December 2021
Won
Nikki Daddy Blowdry
on
02 December 2021
Won
Smart Watch voice Command Car
on
02 December 2021
Won
Selection of Cakes from Ami's Kitchen
on
02 December 2021
Won
Lovebirds Softplay for a day
on
02 December 2021
Won
Teas and Bisque It voucher worth £20
on
02 December 2021
Won
Bubble Lemon grass & Green Tea Beauty Products
on
02 December 2021
Won
Cunning Creations Biscuits
on
02 December 2021
Won
4 Pale Ale in Waitrose Bottle Opener Gift Box
on
02 December 2021
Won
Tiny Talk Gift Voucher & Sensory Toys
on
02 December 2021
Won
4 Cider in Waitrose Bottle Opener Gift Box
on
02 December 2021
Won
Whitney Neil Grapefruit Gin
on
02 December 2021
Won
Archeofun T-Rex & Triceratops Dinosaur Making
on
02 December 2021
Won
Black Hatbox Hamper
on
02 December 2021
Won
Ditsy Gift Bag with gin and accessories
on
02 December 2021
Won
Crafty Cat voucher worth £10
on
02 December 2021
Won
Freixenet Prosecco
on
02 December 2021
Won
Mandara Beauty Set
on
02 December 2021
Won
Champney's Gift Set
on
02 December 2021
Won
Morrison's Chocolate & Biscuits
on
02 December 2021
Won
Mrs Hinch Cleaning Hamper
on
02 December 2021
Won
Commissioned Art Piece by Vicki Peat
on
02 December 2021
Won
Picnic Bag containing Baileys cancel, Chocolates, G&T set and Bottle of Cava
on
02 December 2021
Won
Audi Rucksack containing Men's Gift Set
on
02 December 2021
Won
Amazon Kindle 7 -32GB
on
02 December 2021
Won
Goldbox Hamper
on
02 December 2021
Won
Bubble Moroccan Mint Tea Beauty Products
on
02 December 2021
Won
Wax Melts from Ali & Mummy
on
02 December 2021
See why people trust competitions hosted on Raffall