You have something you'd like to raffle on our platform? That's great!
On Raffall you can host your own competitions and start selling raffle tickets publicly or privately with the option to keep the proceeds from ticket sales yourself or to donate all or part of them to a registered charity of your choice.
As a host you decide the price per ticket and how many tickets you wish to issue and within minutes you're ready to go!
We are the only raffle platform approved by Facebook, PayPal, Apple and Google.
Once live, Raffall enables you to easily share and promote your competitions on and offline.
Online
We've integrated Raffall into some of the world's most popular platforms enabling you to promote your raffle publicly or privately at a simple push of a button.
Whether following a link from a public post or viewing a card received via email or a messaging service, all raffle details are clearly displayed within the recipient's device enabling them to enter immediately and without having to download or install the Raffall mobile application.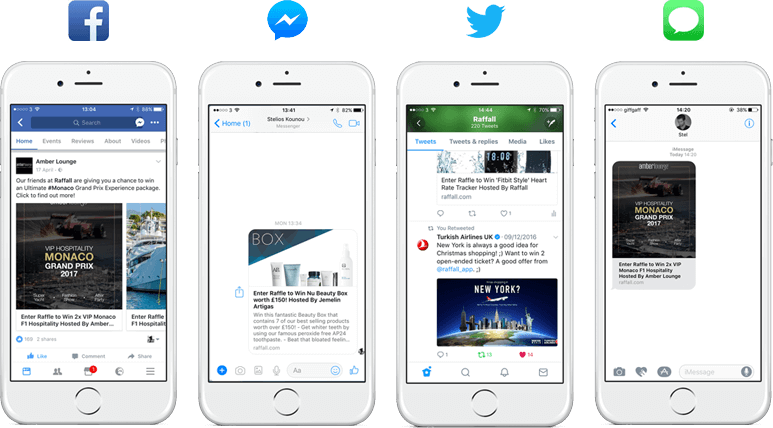 ...plus many others

Affiliates
If you want to further promote your competition, you can enable the Affiliate option that allows other Raffall users to become your message carriers by incentivising them to promote and spread word about your competition or cause.
The Affiliate option is a great way to partner with other brands, businesses and influencers to help increase ticket sales.
With the option to make commissions available to everyone, or a specific set of users, simply set the commission rate and the affiliates will get paid for the tickets they sell directly.
At Events
Our event version allows you to promote and sell tickets face-to-face. Simply load the event version onto your device and ask your customers to Enter!
This is a great tool to generate ticket sales at:
Charity events
Fundraising events
Exhibitions
Outdoor promotions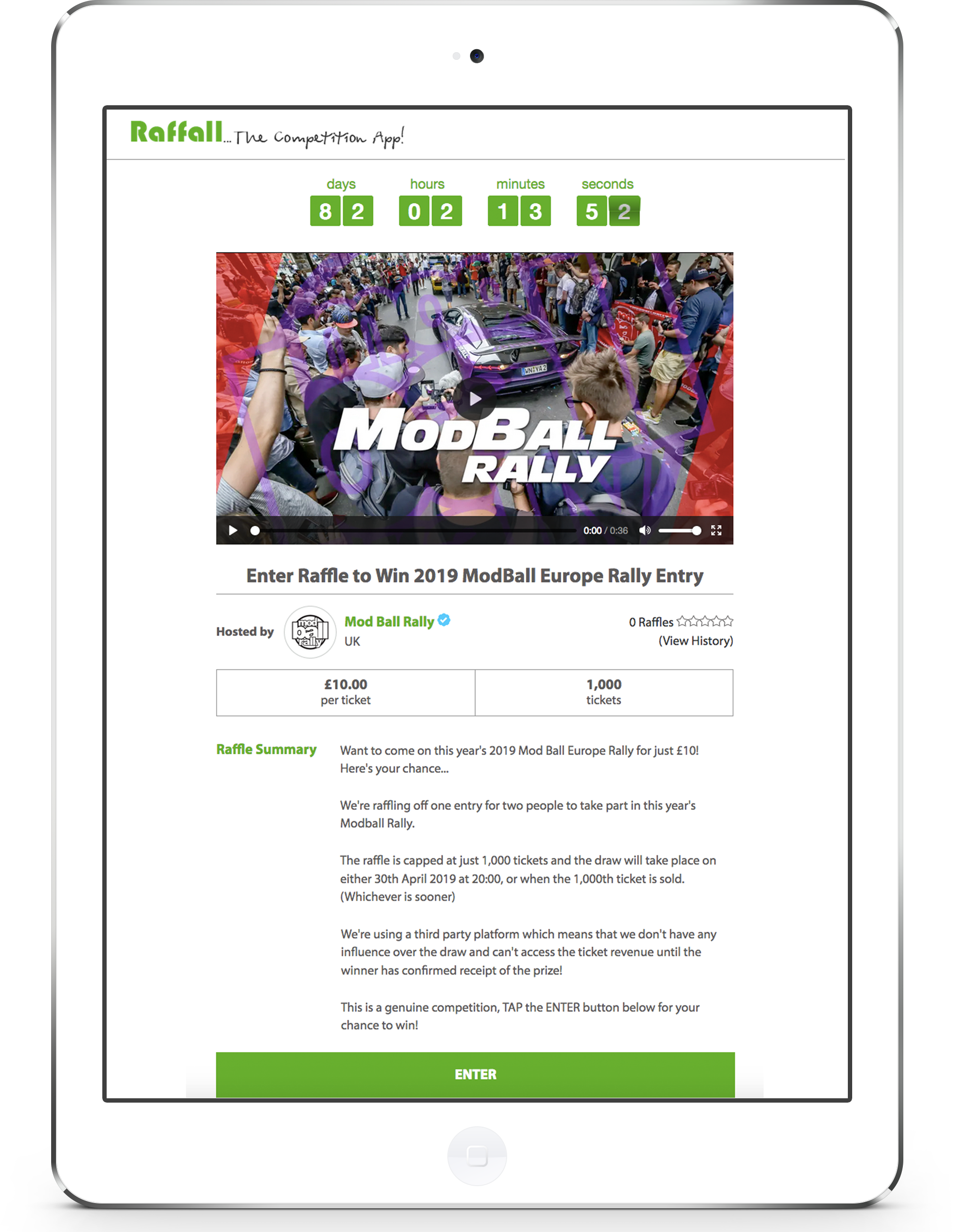 We're the only raffle SaaS (software as a service) platform in the world approved by Visa, MasterCard and American Express.
We process all payments using our own merchant account, which means that you don't have to worry about collecting money, multiple currencies, refunds, or any admin!

Entrants can purchase raffle tickets using a credit/debit card, bank transfer or Raffall credit.
Once your raffle has ended you can easily withdraw the ticket revenue to your PayPal or bank account.
Hosting a raffle on our platform guarantees you a fixed sum payable after the raffle has ended and because you have the option to end a raffle once 'all tickets have been sold', you can calculate the exact amount you wish to receive before you publish.
The app also includes features that enable users to see whose purchased tickets, how many they have and if they have any friends in common and because users must have an active Facebook account in order to enter, this adds an extra layer of security and removes the risks of bots, fake users, entrants and winners.